Fire pits are another must have. Some places will not allow fires directly on the ground and do not provide pits for you.
They now make portable fire pits in all shapes and sizes. They come alone or with gas or propane burners.
There are some RV parks or along some beaches where you will not be allowed to have an outside fire without fire pits!
They clean up nicely and come apart for easy storage. This a huge concern for RV'ers and which fire pit you decide to purchase will depend on your storage capabilities.
* This page contains affiliate links to the products we have listed here. If you purchase a product from our page, we may  receive a small percentage, at no extra cost to you.
These are some standard pits. You can burn wood or charcoal briquettes.
Some higher quality propane fire pits for you!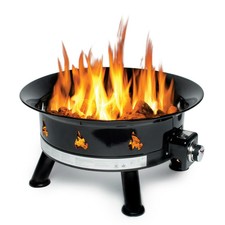 Firestarter, fire glass and charcoal:
I thought it would be appropriate to list some accessories for campfires. Here are some marshmallow roasters and some cooking aids.
Looking for BBQ's, Outdoor kitchens & accessories? Click Here!!!