When outfitting your RV, always make sure you have the right camp tools. You may want to set up and have a toolbox with all the regular tools such as screwdrivers, wrenches, hammers, pliers and socket sets. You will also need tools for the outdoors.
Make sure to always have: an axe, a shovel, a toolkit with all of the regular tools, a drill, a sharp pair of scissors or a sharp knife, duct tape or gorilla tape, a socket set, ratchet tie downs and/or bungee cords, rope, emergency kits, emergency roadside kits, and it would be a good idea to bring along a small tarp.
It is a good practice to bring a saw or chainsaw.  Allan and hex keys of multiple sizes would also be something to tuck into your toolbox.
A good quality Flex Seal tape and/or spray would also be something to consider taking along. When you can't get to a repair shop and need to fix those leaks or tape your awning, this item is always a great alternative!
If you have ideas for must have tools that are missing here, please contact us!
*This page contains affiliate links to products we have listed here. If you purchase something from this site, we may receive a small percentage, at no extra cost to you.
Here are our ideas of Camp Tool must haves:
We also always bring a fan rake to clean up the area outside directly outside the door of our RV. We don't want to step on something that we shouldn't and like to keep our outdoor area clean of debris for our pets. Additionally, raking will cut down on insects and gnats in your camp spot.
It also makes our campsite look nice and cuts down on the dirt tracked into our RV. Raking can also help to clean up and  level out the ground before we drop our mats down.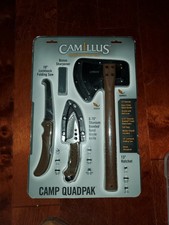 Don't forget your oxygen!